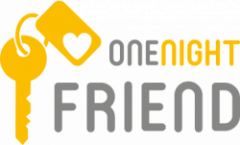 OneNightFriend
If you've been looking for where to find casual flings without the extra demands of commitment, then this may just be perfect for you.
OneNightFriend is an online dating platform that links people looking for casual date, fun, and discreet affairs all over the world. Have you been considering enjoying the pleasures of a casual adventure or thinking about fulfilling your wildest fantasies? On OneNightFriend, you can get all that and so much more. It's the ideal site. Or is it?
If you're wondering whether OneNightFriend can help you get laid without strings attached, here's some information to help you make up your mind.
Pros
Cons
✓ Sign-up is free and simple
✓ Advanced search for people with specific parameters
✓ Open to people of all orientations
✓ Easy-to-use mobile version
✓ Members are accessible and responsive
✓ Connects people close
✗ No instant online customer support
✗ Only premium members can chat
✗ Includes fictitious profiles
About the members:
Over 550,000 members worldwide
Eager and very responsive to messages
60% men and 40% women
About OneNightFriend:
Best for people looking for casual dates and adventures
Very user friendly
Matches people within the same location
How long will it take for me to experience my first spicy adventure?
OneNightFriend is a website with the main aim of connecting single people in search of casual dates. It's designed in a way that makes finding casual dates more accessible. The men and women on the platform know why they're there. So, you don't have to worry about inhibitions.
Getting your first one-night stand will not take a long time. All you need to do is open an account, upload your picture, pay the premium fee, and start chatting with whoever you like. With OneNightFriend, you can even run an advanced search for the exact type of person that fits your preferences. Since the site connects you to people around your location, having one-night stands is even easier.
What Is the Success Rate on OneNightFriend?
OneNightFriend encourages dates between its members. As a potential member, you may what to know how good the chances are of landing a casual partner on the platform. So we took the initiative and decided to check out the website's success rate by creating a profile and sending out messages. We sent two different messages – one was merely suggestive while the other was quite raunchy – to a hundred different ladies and measured their responsiveness.
Test message 1: "Hi beautiful! I'm bored and alone. Would you like to have some fun with me?"
| | | |
| --- | --- | --- |
| Contacted women | Responses | as a percentage |
| 50 | 47 | 94% response rate |
Test message 2: "Hey hottie! I want to lick every inch of that body. You in or what?"
| | | |
| --- | --- | --- |
| Contacted women | Responses | as a percentage |
| 50 | 40 | 80% response rate |
We got a good number of replies to our messages, and the responses were fast too.
What Kind of Women Should I Expect to Find?
This website has several different kinds of women, from hot older women to attractive younger girls with banging bodies and even lesbians. Regardless of your orientation, you'll find the exact woman to fulfill all your fantasies. The women on OneNightFriend are just as open and eager for some as you are. So get ready to have the time of your life.
Immediately your profile is created, you start seeing pictures of the people within the same proximity and around your location. Just select the one most appealing to you and send a message. You'll surely get a reply, and you'll be well on your way to getting that one-night stand you anticipate.
How Secure Is My Data? Am I Anonymous?
The platform takes security very seriously. OneNightFriend has taken steps to make sure its website is not only easy to use but also safe. They store, transmit, and secure the information provided by the users using SSL encryption protocol. It also ensures that all transactions completed on the site have top-level security. Also, your privacy will be protected by not sharing your information with third parties.
Is OneNightFriend a Reputable Platform?
One of the top online platforms out there, OneNightFriend, is an entirely trustworthy website. On the site, you can send messages, flirtcasts, pictures, and get that perfect person for a fun-filled night. As a reputable casual hookup website, it has thousands of positive reviews from its users.
Which Features Are Free?
The website offers several exciting features to its members. Some of the features are available as soon as you sign-up free of charge while others are paid features.
| | | |
| --- | --- | --- |
| Feature | Free | Premium |
| Signing up and creating a profile | ✅ | ✅ |
| Sharing pictures in chats | ❌ | ✅ |
| Like pictures in "Like Gallery." | ✅ | ✅ |
| Seeing complete member profiles | ❌ | ✅ |
| Viewing full search results | ✅ | ✅ |
| Unlimited winks | ❌ | ✅ |
| Responding to messages | ❌ | ✅ |
| Viewing all pictures of members | ❌ | ✅ |
With most of its features available only for paid members, the best way to fully enjoy OneNightFriend is by having a premium account.
The website offers different payment plans. You can decide to try out the platform first with its paid trial option before going on to pay for a full membership plan. All the fun of online platforms lies in the ability to chat, flirt, and set up dates. But with a free account, all that is taken away as you won't be able to read or reply messages. Therefore, we recommend selecting a paid plan as soon as you complete your profile creation.
Here is a breakdown of the paid membership plans on OneNightFriend:
OneNightFriend bills all payment securely from your debit or credit card.
Our test conclusion
Are you looking for some flirting, casual dates, secret meetings, and just some serious fun? OneNightFriend is your plug. It is the perfect platform to find hot girls looking to have hot, steamy adventures with no strings attached. Don't hold back your desires anymore. You can start chatting and hooking up on OneNightFriend right away.